Program Structure and Curriculum
---
Overview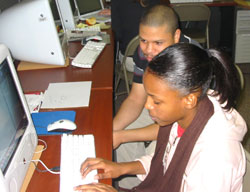 The SUCCEED Apprenticeship Program (SAP) seeks to develop and evaluate activities and support mechanisms that move students from an excitement for computational science and information technology (IT) to having experience and developing expertise. Students learn one or more areas of computational science and associated use of technologies, techniques, and tools of IT, within the context of STEM.
The program has made significant progress in developing and evaluating a methodology for bridging this excitement-expertise gap for upper-middle and high school students.
Participants
The SUCCEED Apprenticeship Program surpassed its goal of working with 100 students in its first three years. Six years after its beginning, the SUCCEED Apprenticeship Program continues to draw underrepresented groups to STEM fields through its dynamic, hands-on learning experience. Below are some details about our participants:
Rising 9th-12th graders
24 apprentices currently enrolled
Each apprentice spends approximately 300 hours in the program over the course of one year
Apprentices are recruited first from Shodor SUCCEED Scholars Program Workshop and then from other Shodor summer workshops
Students are interviewed and admitted based on their interests in STEM (Science, Technology, Engineering, and Mathematics), and parents sign a contract committing their support for their student's participation in the project.
Program Structure and Curriculum
School Year
Summer
Time commitment
All Students Must

attend Saturday workshops three times a month to learn new computational science and STEM skills
spend additional 6 hours working in the office on projects

work on and complete projects
projects must pass a quality assurance process of verification and validation
Throughout the year, all students additionally:
Practice the five competencies outlined the the Secretary's Commission on Achieving Necessary Skills ( SCANS): resources, interpersonal skills, information, systems, and technology
Improve math skills using computational tools
Improve writing skills by completing weekly journals to reflect on what they have learned
Improve communication skills through regular discussions with their mentor and through oral presentation
Skills Learned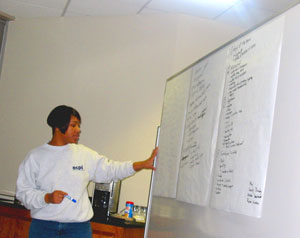 Programming (Java, Javascript, PHP)
Databases
Web Design
Agent Modeling
Systems Modeling
Excel
Systems Administration
Parallel Computing
Verification and Validation
Graphics
Competencies outlined in the Secretary's Commission on Achieving Necessary Skills (SCANS)
Math Skills